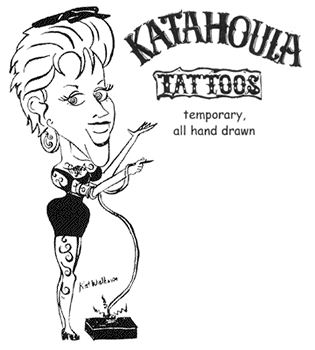 Take a walk on the wild side at your party or event...
Get that tattoo you always wanted, hand drawn by Katahoula, and wash it off when the party is over or the next morning!
Check out her "tattoo machine" that makes the experience seem almost real!
New Orleans is a mecca for tourists and conventioneers charmed by its history, architecture, fine dining, and unique art and music that seem to bubble up out of the cracks in the pavement. It is also the destination of choice for all true connoisseurs of sleaze. a stroll down Bourbon Street with a temporary tattoo by "Katahoula" lets you know you're a long way from home tonight and free at last to cut loose with no regrets.
"Katahoula" and her colleagues have worked at the New Orleans Convention Center, most of the City's major hotels, and many of its finest restaurants.